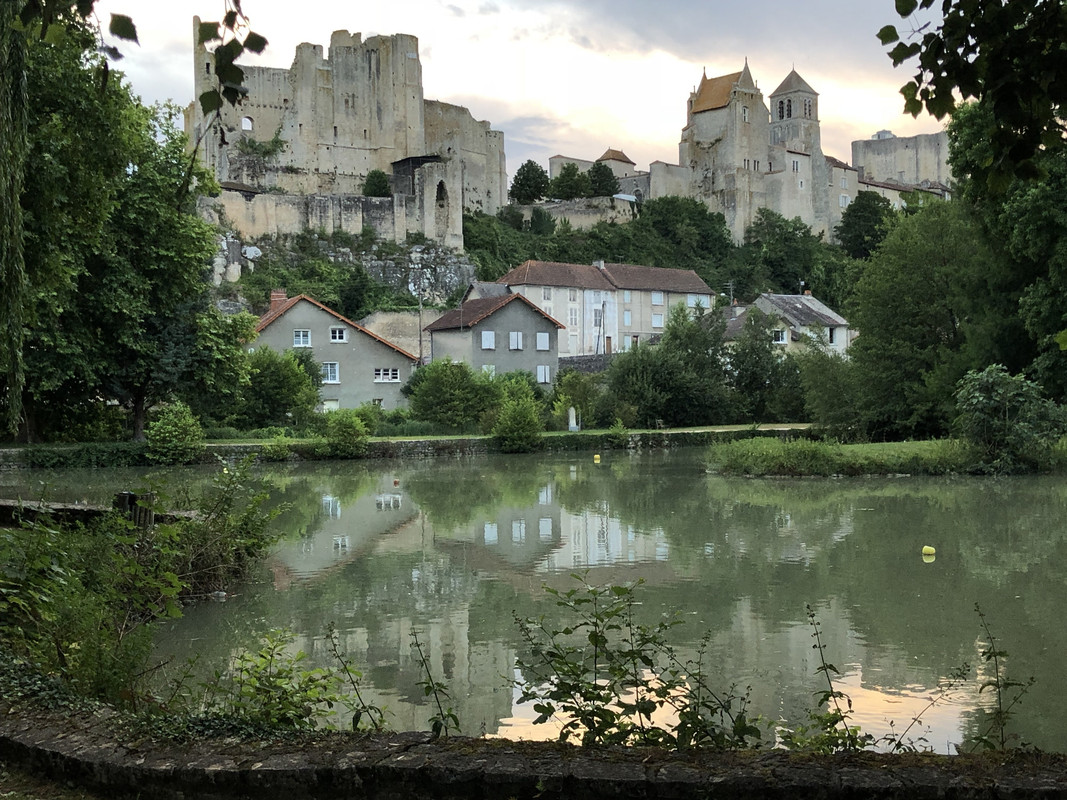 Come and experience real French village life with me in the medieval town of Chauvigny in the Nouvelle-Acquitaine region. We will shop at the local produce markets, soak up the history, explore the nearby picturesque villages, visit nearby brocantes, galleries and chateaux. You will stay in our three level village house in Chauvigny's main street. We are five shops down from the closest patisserie and 12 steps across the road to the friendly tapas and beer bar. This experience is a real chance for you to unpack your suitcase for a week and enjoy the laid back French country lifestyle. I will introduce you to our friends and there will be impromptu outings in addition to what is outlined in the itinerary. The days in the itinerary are subject to change depending on the time of the year and the weather.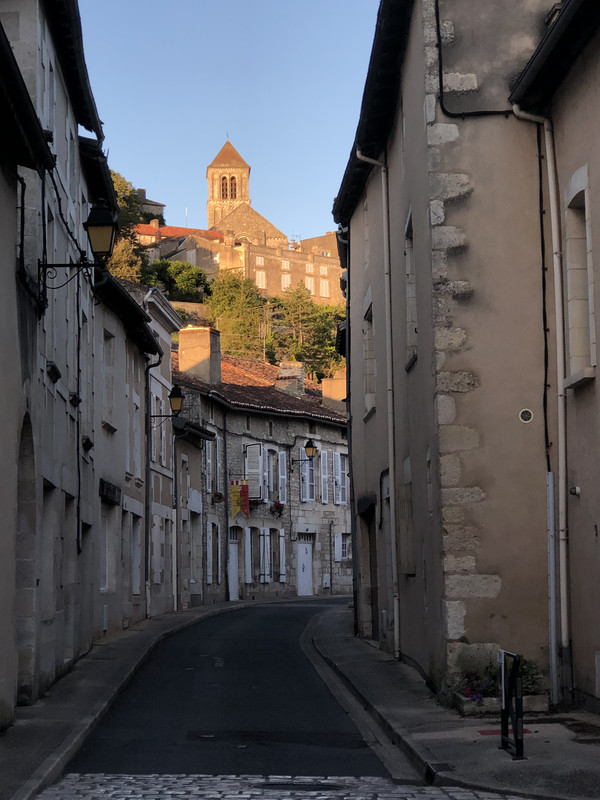 Itinerary (Example only)
DAY 1 Pick up from Poitiers Train Station, settle into your room and explore the town and the Cite Medievale. Aperitifs at 6.00 pm! Dinner in town.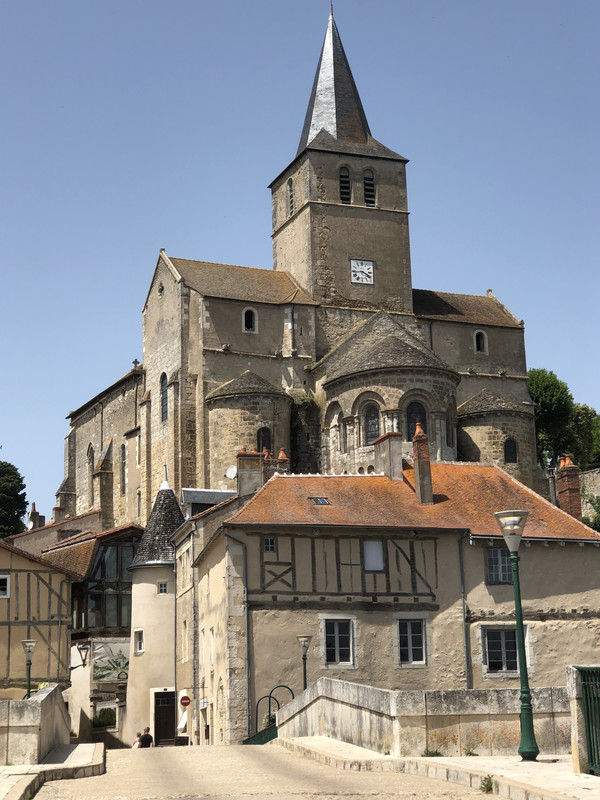 DAY 2 Breakfast then off to visit Montmorillon with its quaint winding cobbled streets and boutique shops which are all themed around books, writing, calligraphy and art. Plat du jour lunch at one of the local French restaurants. Dinner at one of Chauvigny's great little restaurants or continued aperitifs at home if you are still full from lunch!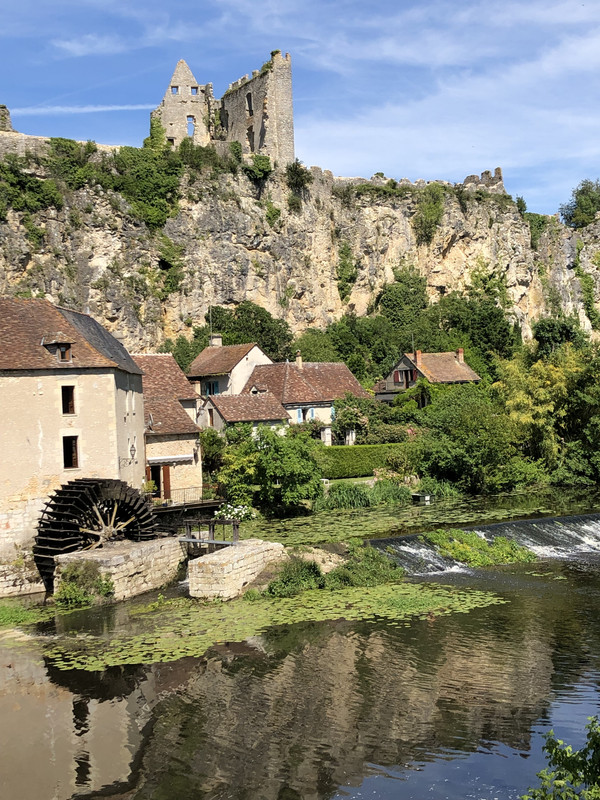 DAY 3 Breakfast, early morning fresh produce market shopping in the town square, then a visit to Angles-sur-l'Angles (one of France's prettiest villages) where we will have a plat du jour lunch. Call into l'Atelier Chauvigny on the way home to visit Alex and his amazing brocante filled barns. Aperitifs at 6.00 pm then a walk up to the castle for crepes and cider (and something more to eat if you wish!)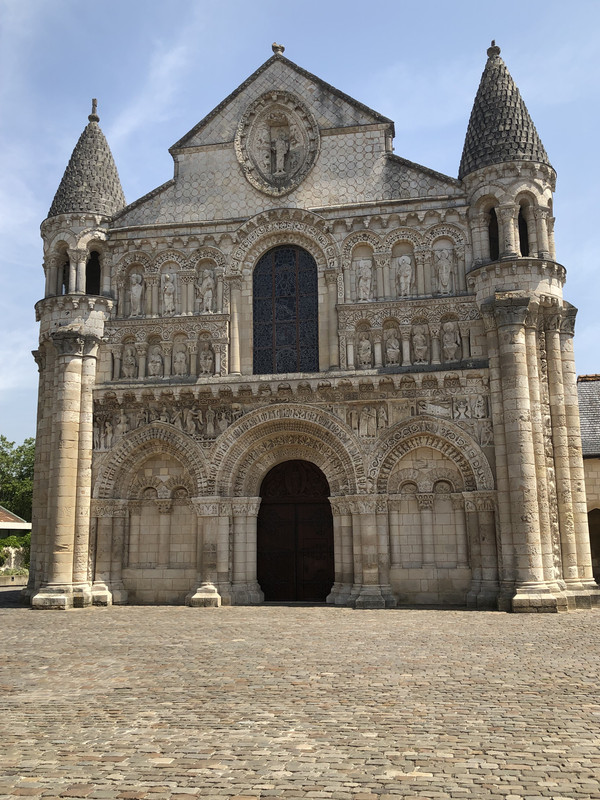 DAY 4 Breakfast then off to the nearby medieval city of Poitiers. Explore the fresh produce market and local brocante market around the magnificent Notre Dame Church. You are assured to find some treasures! Lunch at a spot that takes your fancy then explore the winding streets of boutique shops. Home for aperitifs and dinner in town or home if you prefer.
DAY 5 Breakfast then spend the morning at Chauvigny's big open air market. Test your French speaking skills and buy food for lunch! The afternoon is free for more local exploring, velo rail excitement or sitting in a local bar watching the world go by. Aperitifs at 6.00 pm then dinner in town or cook your own at home with your market purchases.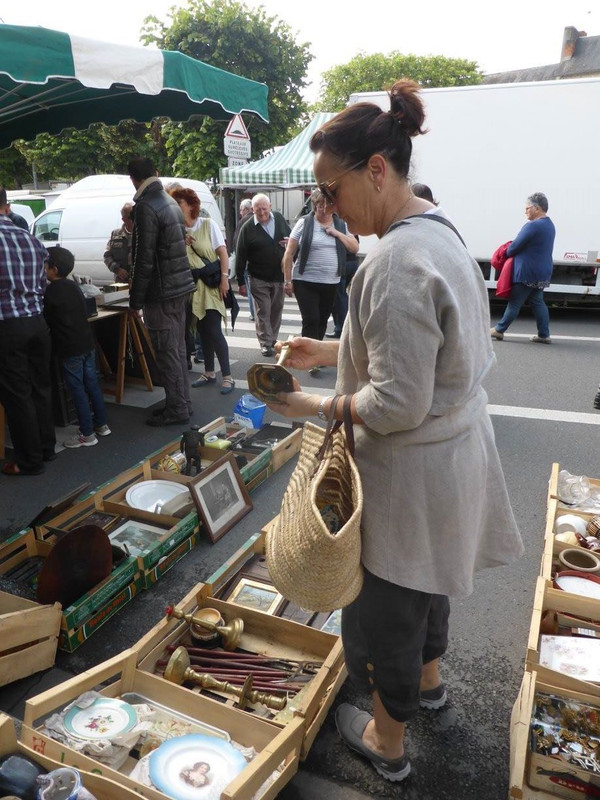 DAY 6 Breakfast and lazy morning before heading off to find one or two brocante or vide grenier at nearby villages followed by a visit to an abbaye or chateau nearby. Aperitifs at 6.00 pm then dinner at home or in town.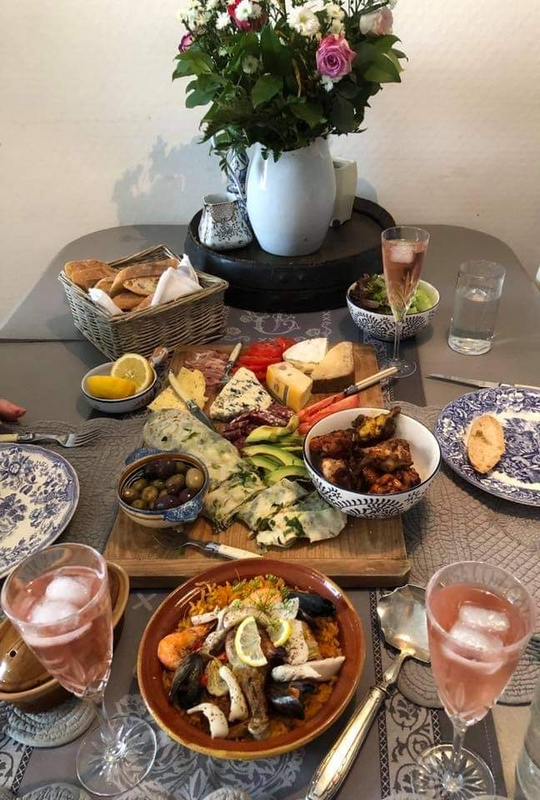 DAY 7 Breakfast and free day to choose what you would like to do. Aperitifs at 6.00 pm and last dinner in town.
DAY 8 Breakfast then pack, and drop off at Poitiers Train Station.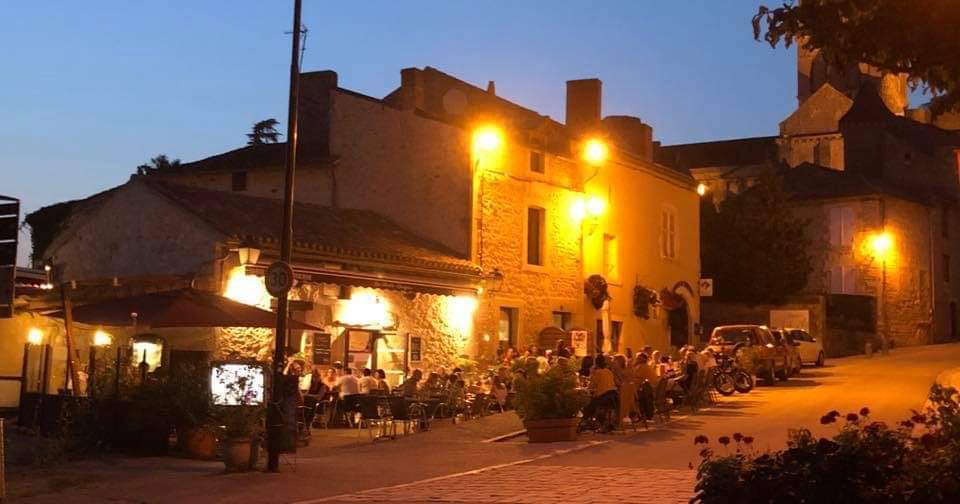 Tour Dates 2021 - SUBJECT TO CURRENT WORLD COVID-19 SITUATION

Monday 17 - 24 March 2021 - Fully booked
Monday 5 July to Monday 12 July 2021 To be confirmed
Monday 26 July to Monday 2 August 2021
Monday 6 September - Monday 13 September 2021 Fully Booked
Monday 20 September - Monday 27 September 2021
Wednesday 6 October - Wednesday 13 October 2021 Fully Booked
DETAILS Cost $2750
$250 Non-refundable deposit (per person) to be paid on booking. Balance due 12 weeks before tour. No refunds for cancellations up to four weeks before tour. Please ensure you have insurance cover. Tour costs include pick up and return to Poitiers Train Station or Poitiers Airport, accommodation in a large comfortable bedroom in our three level village house with luxury linen, all breakfasts and aperitifs each evening, plus all weekly travel in a late model car hire. Not included are lunches and dinners. (These can be out at local restaurants or produce bought to make your own at home). Maximum number of four people per tour.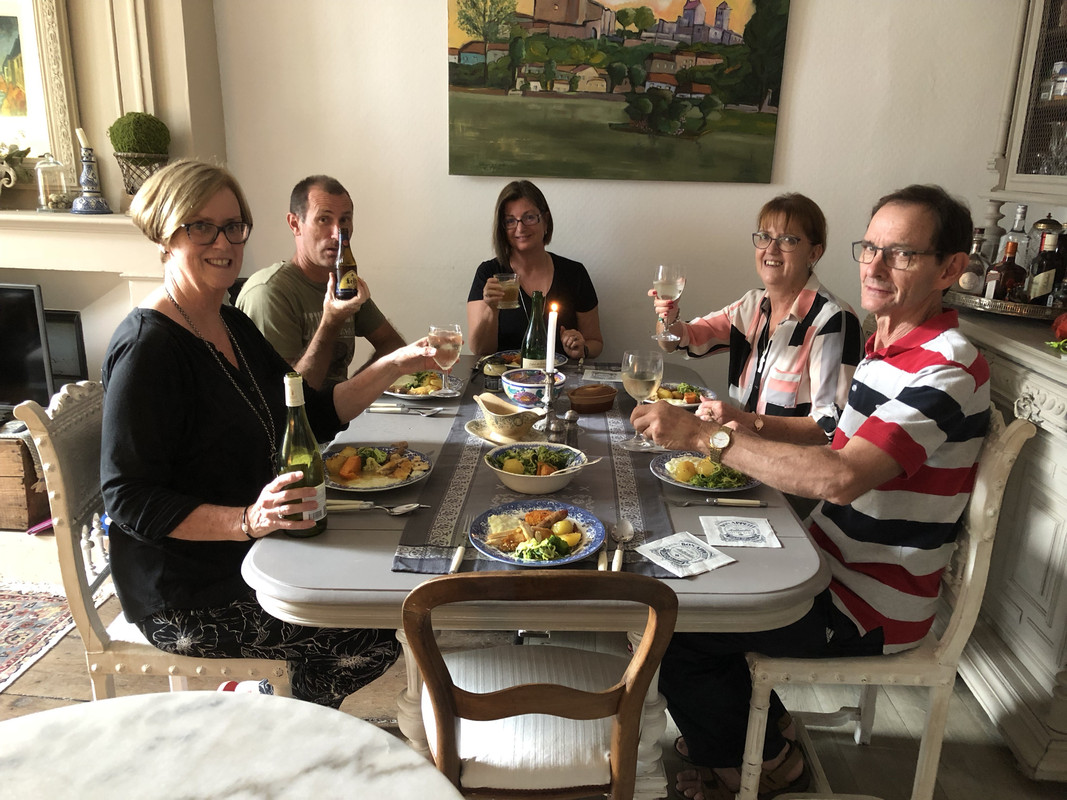 REVIEWS
"Thank you for being such a wonderful host during our week's stay at La Maison de Jac. What a wonderful spot you have in Chauvigny. We have loved walking around the village and taking in the 'bird's eye view' from the Cite Medievale. You should be very proud of what you all have created from what once was a Chapellerie and it is finished so tres chic! Well done all. We've really enjoyed our day trips to the other villages as well and have learnt alot about brocantes and their hidden treasures. A bientot." Jacquie & Lindsay (Western Australia)
"Thank you, not only for sharing your house with us but also your friends and an experience of French life. Chauvigny is a delightful and supremely interesting town as are also the picturesque villages that you introduced us to. It has been a most memorable stay. Thank you again." Chris & Moira (Western Australia)
"Thank you for sharing your love of France with us, in particular Chauvigny. We had the most wonderful time in your beautiful home. You made us feel so welcome and we are so glad we came! Thank you for making our holiday so wonderful. Sue & Dave McComasky (Western Australia)
"Thank you for your hospitality and sharing your amazing home with us. We have loved the walks, the brocante and local markets. Thanks to you, we have met some delightful 'locals'. This experience has given us hope that we really can make this lifestyle 'our' reality. " Ali & Paul Hunt (Western Australia)
"Such a lovely stay, feeling of a real home and relaxation. Lots of laughs and hilarious situations - not to mention F.O.O.D! Thanks Jo for your hospitality and your ability to make us feel at home. We loved the feeling of being in a community and 'a local' and the knowledge that comes with knowing the restaurants, etc." Pete & Lyndell Byrne(Western Australia)
"What can I say! The experience of sharing your life in country France has exceeded all expectations - I've loved it all! A week just disappeared so quickly - we've done so much, seen so many wonderful sights and met many of your beautiful friends. I can really say I have lived and experienced the French culture ... I will be back and with (hopefully) a more comprehensive French vocab. Thank you so much for everything." Ingrid Rickersey (Western Australia)
Thank you so much for a wonderful five days in your lovely home. It has been delightful to experience real French life in the lovely town of Chauvigny. I have loved all the experiences of these days." Carol McDonald (Western Australia
"What a wonderful time I have had! You have achieved great things and I admire you so much! As the first member of our extended family to visit, I feel very privileged to have shared your home in Chauvigny. Au revoir - until next time!" Susan (New Zealand)
"Thank you so much for such a wonderful time. It is wonderful to see the charm of such an old house brought back to a high standard. My room was great to wake in the morning to see the castle. I can't thank you enough for showing me around the town and small villages, all the markets, the meals you cooked and our chats. It is a holiday I will never forget and the experience of staying in such a wonderful house and village. ps. I will be back to visit!" Rae Price (New Zealand)
"Where do I start? Thank you so much for sharing your wonderful home in Chauvigny with us. We felt instantly relaxed and at home. It is a credit to all your hard work! The highlight has been the brocante markets and shopping up a storm. I can't thank you enough." Vicky den Hertog (Le French Quarter, New Zealand)
"Thank you Jo for welcoming us into your home. It was an experience that I will forever treasure. I will miss waking up and opening the warm shutters to the view of the castle and closing them at night when it is all lit up. I know I will be back to explore this beautiful part of the world again." Jordyn den Hertog (New Zealand)
"Jo, thanks for showing us so many sights and traditions of this countryside of France. We had no hope otherwise! Your passion and commitment is second to none. Thanks again." Greg Walsh (Western Australia)
"Jo, it was a wonderful experience that has given us so much joy. La Moustache, la family farm visit, the markets, the brocantes and the Musee visits have ensured there is something for both of us. You have taken us into your home and you are now someone whose friendship we value." Debra Walsh(Western Australia)
"For a great holiday, you need a fabulous location, stunning accommodation, beautiful food and wine. Here we had it in spades! Along with the delight of meeting your many charming friends along the way. We leave with so many wonderful memories. Thank you for your gracious hospitality." Alex & Ross Robertson (Western Australia)
"Everyone has a dream holiday they wish for ... I have had mine for many years and this holiday has far exceeded my dreams. I have loved every minute and now have memories for a lifetime. Thankyou so much for making my wishes come true and sharing your home. Not only do I leave with great memories but also a dear friend. I have felt so safe and cared for. You are a beautiful soul." Jane Craigie (Western Australia)
"Thank you so much Jo, for your warm hospitality, a beautiful home to stay in, a brief adventure over two days crammed with so many exciting things to see and do. Chauvigny has exceeded our expectations by so much, a long time dream to visit this beautiful part of the world was only made possible by you, another tick off the bucket list for us which we are so greatful for. This experience has only been made so much more special by the beautiful new friend we have made. We cannot wait to come back and see you and your home again. Thank you and take care." Adrian & Ros (Western Australia)
"Thank you Jo for a wonderful jam packed adventure over this last week. From the beautiful brocante stalls/markets to the amazing scenery that we have been fortunate to see. Best of luck on your continued journey, it's just going to grow at a rapid pace … thanks for a wonderful, wonderful time … I am sure you know we will be back. Take care and thanks from us both." Jan & Jay (New Zealand)
"Beautiful people, delicious food, great shopping finds. Thank you, thank you, thank you Jo. Will be back." Suzie Western Australia)
"First time overseas, Jo made the trip enjoyable and safe. Will strongly recommend her tours." Rodwin (Western Australia)
"I had the absolute pleasure of spending six wonderful days with Jo at La Maison de Jac in June 2018. The experience was SO much fun, the room and especially the bed was SUPER comfortable and a great breakfast to boot. Visiting the various brocantes and markets with Jo was also a highlight and to meet all the friendly locals just added to the experience. Thanks Jo - lots of very happy and fun memories." Wayne Good (Arkanda Interiors, New Zealand)
"What a fantastic way to experience 'French' life. Thank you Jo for your hospitality and your generosity. Best wishes to you." John & JaneTrevaskis (Western Australia)
"Thank you for opening up France to us. We truly experienced France from a new perspective. Loved the brocante, the food, the scenery, the villages, the chateau and of course the company. You have been an amazing host - we feel we have known you forever. It was a fantastic experience. Thanks also for arranging such great weather although a trifle too hot! All the best." Alison & Steve Aldersee (Western Australia)
"Not a breath of wind stirred the hot night air, high from my window I could stand and stare, Five chateaus silhouetted in the darkening sky, Illuminated like sentinels for me to spy, On a life medieval, old stones to prove, In this life just dream, you've nothing to lose, and all to gain, so pinch me again. Yes from NZ to Chauvigny to Jo I came, This haven so calm, so beautifully set, Inspired my soul, plus the good folk we met, All friends of Jo, of long to be true, As Jo is the friend we wish we all knew. You are so special Jo, thank you for making my dreams come true." Absinthe Lynette "The Green Fairy" (New Zealand)
"One of my lifelong dreams was to experience staying in real France and your beautiful house with you as an amazing host and friend, has fulfilled that for me. I have loved every minute and am sad to be leaving tomorrow. Thank you for sharing this special place with me. I have enjoyed the rose', food, sights and great company. Especially enjoyed the laughs and interesting car rides in the Renault with John, Jan and Gill! Thank you for making me feel at home, spending time and introducing me to all your friends here." Maree Loye (New Zealand)
"Thank you for everything! Fantastic to see local France, brocantes and rose'. It's been fun 24/7 and look forward to seeing you in NZ." Jan Wiltshire (New Zealand)
"Yes Jo, agree with Jan totally. In your own quiet style you steered us around part of the real France. It gave us a glimpse of every day French life and all the characters and events that are in the patchwork of that. And then there was the back right side seat of the Clio … a great place to admire it all from …! See you on the other side." John Wiltshire (New Zealand)
"Thank you for making our French/Italian experience so wonderful. It is something that both of us have wanted to experience but it has made it so special for us having you as such a major part of this. Thank you so very, very much for your friendship and patience. We have had a marvellous time." Colleen & Trevor Stoney (Western Australia)
"Thank you Jo for sharing your French home and French life with us. We had a lovely time exploring the villages, brocante, cafes and restaurants." Annie & Rob Hesford (Western Australia)
"The best way to feel something is to live it. Thanks for all the adventures and explorations (and food/wine). Perfect central, interesting and welcoming village." Andrea Booker (New Zealand)
"Thanks Jo for your hospitality. A genuinely fantastic experience. Food never a shortage and a very comfy bed!" Margaret Hoebergen (New Zealand)
"Warm and sincere thanks not only for your warm, wonderful hospitality but also for your friendship. It has been a zillion moments of delight strung together like pearls, precious, lustrous, relaxing, beautiful, warm and to be treasured for all time. This dream of sharing your delightful part of France became reality. Thank you, thank you. Merci, merci, merci. A bientot! ps Happy Birthday Barbara, two sisters in France! Pauline Vukelic (Western Australia)
"Many thanks for a fabulous week. I have loved every moment. Your generosity in sharing this beautiful part of the world and introducing us to your friends has been very special indeed." Barb Williams (Western Australia)
Thank you so much for your wonderful introduction to France. I love your lifestyle and your wonderful home. You have taught me to appreciate history and antiques. You have a wee way to go to convince Dave that it's not "junk" though! Your hospitality has been fantastic, the bed is great and your patience while we shopped, and showing us the beautiful nearby towns. Jo, you are a genuine, beautiful person - don't ever change! Jeannie & Dave Stewart (New Zealand)
Thank you so much for welcoming us into your home and your French lifestyle. We enjoyed sharing your love of brocante and wine. The timer spent with you was truly delightful. A time in our lives we will treasure for the rest of our lives. Whenever I have afternoon tea, I will think of you and Chauvigny. Best wishes for the future. Sharon McMillan (New Zealand)
Your hospitality has been amazing. The places you have taken us to: Angles-sur-l'Anglin - breathtaking, Chateau de Touffou - one of my dreams come true. The local markets where the people are great, as my French is bad. They are so kind. This has been my dream come true. Thank you for sharing your slice of Heaven with us. Chauvigny, you are beautiful. Fiona Lane (New Zealand)